Who are "The Coupon Guys"...?
A firm with over 40 years of grocery retailer, sales and marketing and coupon promotion experience in the Retail Grocery and Alcohol Industry. Expertise achieved from management with Sales & Marketing Firms (Food Brokers), National Brand Manufacturers and Grocery Retailers. Unmatched experience in the industry to bring much more than mere coupon printing services. Our sole business purpose is to provide in-store exposure for clients and grow your case sales and market share. We deliver at a lower cost than "traditional" vehicles! Our services generate increased trial, expanded reach in-store where impulse purchases and immediate gratification are KEYS to success!
A Creative & Professional Team
Coupons in hand in as few as 10 working days!
Simply stated...we are ONE SINGLE POINT OF CONTACT to provide 100% of your needs, all turn key from initial creative to clearinghouse services on the back end. NO other company can offer these service at our fast turn time.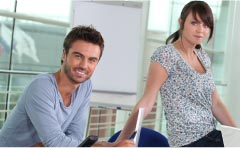 THE only one-stop-shop for
all things coupon related